Congratulations to our lab director Dr. Chirag Shah for this milestone recognition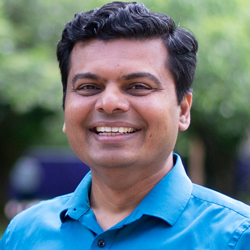 ACM honors iSchool's Shah as Distinguished Member
UW Information School Professor Chirag Shah is among 67 global scholars recognized this year as Distinguished Members of the Association for Computing Machinery (ACM) for their outstanding contributions to the computing field.
The ACM is the world's largest computing society. It recognizes up to 10 percent of its worldwide membership as distinguished members based on their professional experience, groundbreaking achievements and longstanding participation in computing. The ACM has three tiers of recognition: fellows, distinguished members and senior members. The Distinguished Member Recognition Program, which honors members with at least 15 years of professional experience, recognized Shah for his work at the intersection of information, access and responsible AI. Shah expressed his gratitude and appreciation for the award.
"I'm incredibly grateful for all the support I've received from everyone. It's a very humbling experience," said Shah. 
Shah has contributed a great deal of research related to people-centered information access and examining how biases and issues of discrimination that are present within information systems can be counteracted. One of Shah's significant contributions to the iSchool has been co-founding Responsibility in AI Systems and Experiences (RAISE).
Read more: https://ischool.uw.edu/news/2022/12/acm-honors-ischools-shah-distinguished-member?fbclid=IwAR10RqqU2ltZZ4P-OFlZUjlc1i62UYy1TgzlRRwJ5cqNzUtGZTVBP1O_TGY